PSP 2011: Back to the Future
by Chris "IQ" Iaquinta
PaintBall.com Editor-in-Chief

A few days ago, rumors appeared on a few different media outlets suggesting that the PSP, one of the top tournament producers in paintball history, would be making some drastic changes to their format for the 2011 season. The theories were that the league were going to making the size of their field layouts bigger, add bigger bunkers to the backfield, and even remove sideline coaching all together. Rather than let the rumors persist, the PSP now has just released an official statement concerning changes to the series for 2011, and PaintBall.com is bringing you the news first!
From the PSP News Feed:
"The PSP is taking steps to make it possible for talented players of all sizes, ages and pay grades to compete nationally. Currently, smaller and wealthier players have an edge in the PSP. The field layouts have not been friendly to larger players, and the teams with heavy financial backing can afford to practice the field layout every weekend. It's time to make sure the most talented players are the ones excelling in the PSP, not just the most fortunate.
After speaking with many current and past players of the PSP as well as our Master Sponsors, we have decided to make the following changes:
· Lengthen the field 10 feet per side (Total size will now be 120 x 170 feet)
· Eliminate Pit-side coaching and communication
· Field Layouts will not be released prior to the events
· Adjust position of bunkers to better suit a wider variety of players
· Adjust classification system for D1 - Pro, now that the Semi-Pro division is absent
We're taking the game in a direction that will include more players, as opposed to excluding them as has been done in the past. We need to make sure players can still compete when they turn 30 or are not in a financial position to practice every weekend. We feel this is the right thing to do for our customers and our business as well as the sport and industry.
The PSP is here for the long run. These steps are in an effort to include more people in the game, while still making sure the ones with the best paintball skills win. More information on the 2011 season will be released in the weeks to come at http://www.pspevents.com
."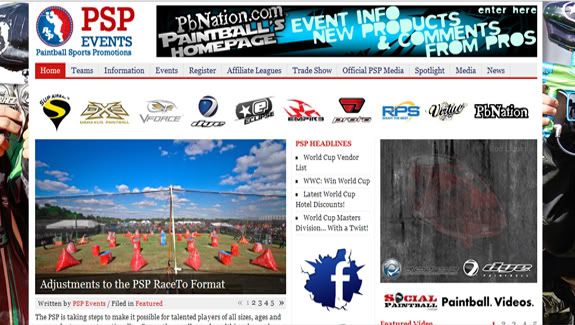 PaintBall.com is excited to announce that we have made arrangements to provide exclusive on-site coverage for every PSP event for the 2011 season. PaintBall.com will be doing interviews, photo galleries, scoring and more as it happens each day of each tournament. We look forward to supporting the PSP throughout the upcoming year and working together to bring great paintball content to the masses.